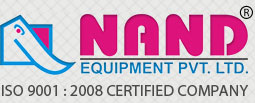 Commercial Kitchen Equipment
Nand Equipment Pvt. Ltd has earned a strong industrial repute by developing smart kitchen solutions in the form of Commercial Kitchen Equipment. Kitchen counters, hot bain marie counter, commercial fryer, etc., all offered equipment are used for serving customers in hospitality sector. Snack items, French fries, chips and other food items can easily be fried with easily draining the excessive oil. Developed to suit various requirements of food catering industry, offered Commercial Kitchen Equipment are featured with separate blocks for food storage and frying applications. Designed by our smart-minded professionals using innovative techniques, our offered goods are widely appreciated by our worldwide clients for their operational results.
Features
Quality material gives high strength to the equipment
Smooth finishing with round edges
User-friendly structures with elevated durability
Easy to clean and maintain
We look forward to Domestic inquires from Gujarat, Madhya Pradesh, Maharashtra, Rajasthan and international inquires from South Africa, UK, US, and Asian Countries.